Biography
Gemma Godfrey is a Board Director, Broadcaster and Quantum Physicist.
Voted the most popular business influencer on social media and "Commentator of the Year", Gemma Godfrey was named among the "savviest" on Wall Street by the Wall Street Journal. Head of Investment Strategy at Brooks Macdonald, her firm manages $10 billion, across 11 offices. Godfrey directs the Asset Allocation and Investment Committees, positions the business to achieve long-term strategic goals and is the Ambassador for the firm.
Godfrey is CNBC's first Official Contributor in Europe, a co-Host and Panellist. The channel has a reach of more than 390 million households across the world. She is also ITV's Financial Expert. Sought out to clarify complex situations as they unfold, she empowers people with knowledge and challenges other to do the same.
Selected by the BBC as one of the world's Top 100 Women "striving to make the world a better place", Godfrey was profiled by the Times on the ascent of women in the boardroom. She is on the Advisory Board of Templars Communications, the Independent Advisory Committee of the largest communal charity in Europe and an Advocate for the Alternative Investment Management Association.
A Keynote Speaker and Moderator for some of the largest events internationally, Godfrey founded www.theinvestmentinsight.com, offering smart insights for smart investing. She is a front-page featured columnist for the Huffington Post.
Previously Godfrey held a weekly slot for Sky News and was the Chairman of the Investment Committee of Credo Capital. A fund manager for Julius Baer and responsible for Latin American investments at GAM, she has spent time at Goldman Sachs and UBS. Godfrey is a quantum physicist by background.
Broadcaster
" There is no one better at clarifying complex conditions as they unfold.... "
Michael Gurka, Managing Director, Spectrum Asset Management, LLC
Watch Gemma's latest videos at Youtube
Boards
" Her expertise is unmatched in her field and her ability to articulate global solutions is priceless. "
Sean Larsgard, Founder, Prediction Point Trading
"Inspiring Women"

One Leap (backed by the Prime Minister)

"Striving To Make The World A Better Place"

BBC's Top 100 Women
Speaker & Moderator
"Articulate, confident and well informed.. I would love to work with Gemma again!"
Victoria Chatterton, Senior Conference Director, ICBI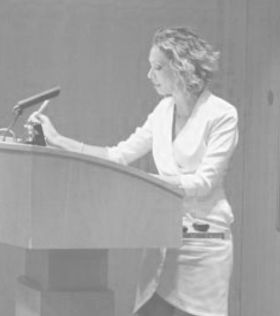 "A terrific moderator"
Marc Sidwell, Business Features Editor, City A.M.
Columnist
" Her prolific writing and opining across multiple media has become known for incisiveness and clarity "
Hamlin Lovell, CFA, CAIA, FRM, Journalist
"Top Business Woman Who Tweets About Wall Street"
AdvisorOne
How To Keep Your Head When Those Around You Are Losing Theirs - 17 Oct 1414
Learn the secret of how to make money while those around you are fearful, in under 2 minutes. Explanation in the text below, as well as advice on how to react to recent stock market moves. How to keep your head when those around you are losing theirs. Firstly get better informed by asking 3 […]
1 Simple Rule To Tell Who's Naked & How To Avoid Losing Money - 10 Oct 1414
"In light of the naked celebrity photos doing the rounds, I'm going to tell you today how to tell who's really naked in Silicon Valley and beyond. We all know the story, the Emperor's New Clothes… An Emperor who loves to buy new clothes and he hears about a thread that invisible to idiots. He […]
latest tweets | Follow @GCGODFREY
Gallery
" A breath of fresh air... engaging and insightful. "
Martin Brooker, Sales & Marketing, CL Securities
Recognition
"Nothing short of excellent. Proven to be spot-on, entertaining & informative.. outstanding"
Michael DiVecchio, Program Manager, U.S. Department of Homeland Security (DHS)
"Consistently ahead of the curve"
Alan von Altendorf, President, CWSX LLC
"To achieve this credibility takes enormous hard work"
Harry Owen, Commercial Director, City AM
"A one-of-a-kind woman.. a source of inspiration "
Joyce Hanson, Associate Editor, Summit Business Media
"As close as most of us will ever come to a living, breathing crystal ball"
Ed Carson, CEO, HVT Capital Management
"Her unique background affords her ways to approach conundrums in a manner rarely seen on Wall Street"
Oliver Pursche, Managing Partner, Montebello Partners
"A prolific strategist.. with a razor sharp intuition"
Radin Yousefi, Managing Director, Tradevec Limited
"A rare find.. a true intellect with the power to communicate clearly & concisely"
Christian M. Wagner, CEO, CIO, Longview Capital Management, LLC
"Unique balance of intelligence combined with a healthy dose of common sense.. offers practical advice, thoughtful leadership & new ideas"
Martin Rust, Senior Consultant, Strategy Corp
"A dynamic personality, highly respected in her field yet possessing the warmth of a dear friend"
Steven M. DiGregorio, President, Compass Asset Management Group, LLC
"One of a very few trusted sources of information in the business"
Christopher Colbourne, Founder, Trident Colbourne Financial Ltd
"Vivacious, witty and erudite.. If there was a listed stock for Gemma, I'd be going long on her every day"
Leon Clarance, Chief Executive Officer, Motion Picture Capital Limited
Recommendations
Contact
Subscribe
here
for updates